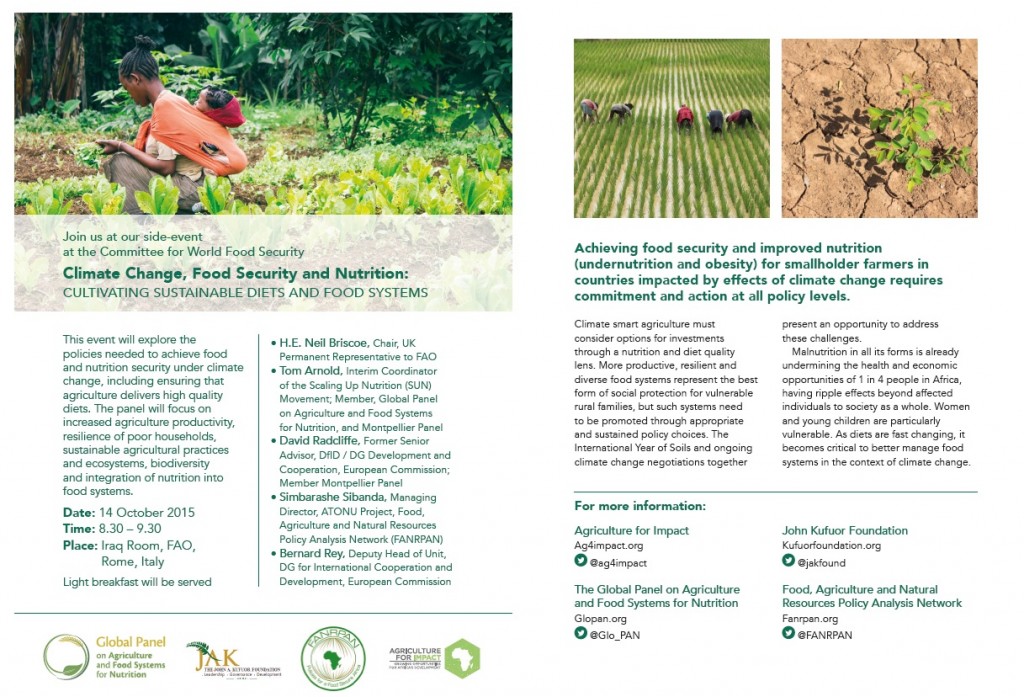 Agriculture for Impact will be co-hosting a side event with the Global Panel and FANRPAN at the Committee on World Food Security (CFS) event in October.
The side event will be held on Wednesday 14th October, 8:30-9:30am, in the Iraq Room. Refreshments will be served.
Achieving food security and improved nutrition (undernutrition and obesity) for smallholder farmers in countries impacted by effects of climate change requires commitment and action at all policy levels. Climate smart agriculture must consider options for investments through a nutrition and diet quality lens. More productive, resilient and diverse food systems represent the best form of social protection for vulnerable rural families, but such systems need to be promoted through appropriate and sustained policy choices. The International Year of Soils and ongoing climate change negotiations together present an opportunity to address these challenges.
Malnutrition in all its forms is already undermining the health and economic opportunities of 1 in 4 people in Africa, having ripple effects beyond affected individuals to society as a whole. Women and young children are particularly vulnerable. As diets are fast changing, it becomes critical to better manage food systems in the context of climate change.
This side event will combine experts to explore the policies needed to achieve food and nutrition security under climate change, including ensuring that agriculture delivers high quality diets. The panel will focus on increased agriculture productivity, resilience of poor households, sustainable agricultural practices and ecosystems, biodiversity and integration of nutrition into food systems.