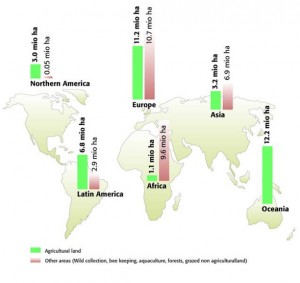 Organic agriculture is a highly sustainable form of crop and livestock production[1] defined as a "system of farm management production that combines best environmental practices, a high level of biodiversity, the preservation of natural resources, the application of high animal welfare standards, and a production method using natural substances and processes."[2] Organic agriculture (OA) shares similar values with conservation agriculture (CA) by emphasising the return of organic matter to the soil and using agroecological methods such as multiple cropping and crop rotations. OA and CA differ in that CA may allow for the use of inorganic inputs and genetically modified organisms (GMO's),[3] whereas OA has strict regulations on the amount and nature of inputs that can be applied and prohibits the use of genetically modified seeds, synthetic fertiliser, herbicide and most insecticides and pesticides, with the exception of various "natural or simple" chemicals. OA also bans the routine use of antibiotics and wormers. However, natural pesticides are not necessarily less toxic than synthetic pesticides,[4] and may not be safer for human use or cause less damage to the environment.
Data related to OA in Africa are sometimes approximate and incomplete. A 2007 study by IFOAM estimates that around 1% of the world's certified organic land is in Africa, whilst African farmers comprise almost 10% of certified organic farmers. OA appears most prevalent in east Africa; 50% of Africa's certified organic farmers are located in Uganda and 20% in South Africa; 19% are in North Africa, and 5% are in the West. [5]
Contribution to Sustainable Intensification
Organic agriculture (OA) aims to 'mimic nature' by making use of natural ecological processes and resources to provide nutrients that sustain soil fertility, control pests, diseases and weeds. By building natural capital in this way, farms can be more resilient against shocks and stressors and more productive in some circumstances. The potential of OA is considered to be significant in developing countries and in areas faced with degraded soils or a lack of financial capital,[6] allowing farmers to increase their yields and incomes in a sustainable way.
Benefits and limitations
References
[1] Agriculture for Impact 2013, Sustainable Intensification: A New Paradigm for African Agriculture, A Montpellier Panel Report, London.
[2] European Commission, 2015 Glossary: Organic Farming. Available from: <http://ec.europa.eu/agriculture/glossary/organic-farming_en.htm> [25 June 2015].
[3] Food and Agriculture Organization of the United Nations (FAO) (no date), Conservation Agriculture: Frequently Asked Questions FAO, Rome.
[4] Bahlai, C, Xue, Y, McCreary, CM, Schaafsma, AW & Hallerr, RH 2010, 'Choosing Organic Pesticides over Synthetic Pesticides May Not Effectively Mitigate Environmental Risk in Soybeans' PLoSONE, vol. 5 , no. 6 Available from: < http://journals.plos.org/plosone/article?id=10.1371/journal.pone.0011250 > [25 June 2015].
[6] El-Hague Scialabba, N (ed) 2007, International Conference on Organic Agriculture and Food Security. 3-5 May. FAO, Italy. Food and Agriculture Organization of the United Nations (FAO), Rome.
[7] Stinner, DH 2007, 'Science of Organic Farming' in Organic Farming: An International History, ed. W Lockeretz, CAB International, Wallingford.
[8] El-Hague Scialabba, N (ed) 2007, International Conference on Organic Agriculture and Food Security. 3-5 May. FAO, Italy

.

Food and Agriculture Organization of the United Nations (FAO), Rome.
[9] UNEP-UNTCAD Task Force on Trade, Environment and Development 2008, Organic Agriculture and Food Security in Africa. United Nations, New York and Geneva.
[10] Intergovernmental Panel on Climate Change (IPCC) 2007, 'Summary for Policy Makers' in Climate Change 2007: Impacts, Adaptation and Vulnerability. Contribution of Working Group II to the Fourth Assessment Report of the Intergovernmental Panel on Climate Change, eds. ML Parry, OF Canziani, JP Palutikof, PJ van der Linden & CE Hanson, Cambridge University Press, Cambridge, pp. 7-22.
[11] Agriculture for Impact 2013, Sustainable Intensification: A New Paradigm for African Agriculture, A Montpellier Panel Report, London.
[12] The World Bank, 2008. World Development Report 2008: Agriculture for Development Overview. The World Bank, Washington, D.C.
[13] DeGregori, T 2002, Bountiful harvest: technology, food safety, and the environment, Cato Institute, Washington, D.C.
[14] Conway, G 2012, One Billion Hungry, Can We Feed The World? Cornell University Press, Ithaca and London.
[15] Research Institute of Organic Agriculture, FIBL 2007, Organic Farming and Climate Change International Trade Centre UNCTAD/WTO, Geneva.
[16] Ecological Society of America (esa) 2000, Carbon Sequestration in Soils Ecological Society of America, Washington, D.C.
[17] Lal, R 2004, 'Soil Carbon Sequestration Impacts on Global Climate Change and Food Security' Science vol. 304, no. 1623, pp. 1623-1627.
[18] Intergovernmental Panel on Climate Change (IPCC) 2007, 'Summary for Policy Makers

'

in Climate Change 2007: Impacts, Adaptation and Vulnerability. Contribution of Working Group II to the Fourth Assessment Report of the Intergovernmental Panel on Climate Change, eds. ML Parry, OF Canziani, JP Palutikof, PJ van der Linden & CE Hanson, Cambridge University Press, Cambridge, pp. 7-22.
[19]Agriculture for Impact 2013, Sustainable Intensification: A New Paradigm for African Agriculture, A Montpellier Panel Report, London.
20 Muller, A 2009, 'Benefits of Organic Agriculture as a Climate Change Adaptation and Mitigation Strategy for Developing Countries'. Environment for Development Discussion Paper Series no. 9, EEU-Sweden.
[21] Joint WHO/FAO Expert Consultation on Diet, Nutrition and the Prevention of Chronic Diseases 2003, Diet, nutrition and the prevention of chronic diseases: report of a joint WHO/FAO expert consultation, Geneva, Switzerland, 28 January-1 February 2002, World Health Organisation, Geneva.
[22] Altieri, M 2002, 'Non-Certified Organic Agriculture in Developing Countries' Chapter 4 in Organic agriculture, environment and food security, eds N El-Hage Scialabba & C Hattam. Organic agriculture, environment and food security Environment and Natural Resources Series No. 4, FAO, Rome. Available from: <http://www.fao.org/docrep/005/y4137e/y4137e00.htm#TopOfPage> [25 June 2015].
[23] IFAD. 2003. Promoting market Access for the Rural Poor in Order to Achieve the Millennium Development Goals. Discussion Paper.
[24] Agriculture for Impact 2013, Sustainable Intensification: A New Paradigm for African Agriculture, A Montpellier Panel Report, London.
[25] Badgley, C Moghtader, J, Quintero, E, Zakem, E, Chappell, MJ, Aviles-Vazquez, K, Samulon, A & Perfecto, I 2007 'Organic Agriculture and the Global Food Supply'. Renewable Agriculture and Food Systems vol. 22, no. 2, pp 86-108.
[26] Agriculture for Impact 2013, Sustainable Intensification: A New Paradigm for African Agriculture, A Montpellier Panel Report, London.
[27]The Organic Research Centre 2013, The role of sustainable intensification and agroecology in achieving food security sustainably Available from: <http://www.organicresearchcentre.com/?go=Information%20and%20publications&page=2013%20Closing%20plenary> [25 June 2015].
[28] Conway, G 2012, One Billion Hungry, Can We Feed The World? Cornell University Press, Ithaca and London.
[29] Ton, P 2013, Productivity and Profitability of Organic Farming Systems in East Africa, Commissioned by the International Federation of Organic Agriculture Movements (IFOAM), Bonn.
[30] Research Institute of Organic Agriculture, FIBL 2007, Organic Farming and Climate Change International Trade Centre UNCTAD/WTO, Geneva.
[31] Gibbon, P & Bolwig, S 2007, The economics of certified Organic Farming in Tropical Africa: A Preliminary Analysis SIDA DIIS Working Paper number 2007/3, Subseries on Standards and Agro-Food-Exports (SAFE) No.7 Danish Institute for International Studies (DIIS), Copenhagen.
[32] Wynen, E & Vanzetti, D 2002, Certified Organic Agriculture- Situation and Outlook Chapter 3 in Organic agriculture, environment and food security, eds N El-Hage Scialabba & C Hattam. Organic agriculture, environment and food security, Environment and Natural Resources Series No. 4, FAO, Rome. Available from: <http://www.fao.org/docrep/005/y4137e/y4137e00.htm#TopOfPage> [25 June 2015]
[33] Vossenaat, R & Wynen, E (eds) 2004, Trading Opportunities for Organic Food Productions from Developing Countries, United Nations, New York and Geneva.
[34] Thamaga-Chitja, J & Hendriks, SL 2008, 'Emerging issues in smallholder organic production and marketing in South Africa' Development Southern Africa vol. 25, no. 3, pp. 317-326
[35] European Commission, 2015. Agri-environment measures Available from: <http://ec.europa.eu/agriculture/envir/measures/index_en.htm> [25 June 2015]
[36] Food and Agriculture Organization of the United Nations (FAO) 2010, Relevance of OECD Agri- Environmental Measures for Remuneration of Positive Externalities / Payments for Environmental Services. Stakeholders Consultation From Payment of Environmental Externalities to Remuneration of Positive Externalities in the Agriculture and Food Sector 27-28 September 2010, FAO, Rome. Available from: <http://www.fao.org/docrep/013/al921e/al921e00.pdf> [25 June 2015]
[37] Muller, A 2009, 'Benefits of Organic Agriculture as a Climate Change Adaptation and Mitigation Strategy for Developing Countries

'

. Environment for Development Discussion Paper Series no. 9, EEU-Sweden.
[38] United Nations Environment Programme (UNEP) 2011, Towards a Green Economy: Pathways to Sustainable Development and Poverty Eradication [24 June 2015]
[39] United Nations Environment Programme (UNEP) 2011, Towards a Green Economy: Pathways to Sustainable Development and Poverty Eradication [24 June 2015]